NCHJA CHECKLIST
Remember to renew your membership for 2020 starting December 1, 2019 *********Please direct any questions to info@nchja.com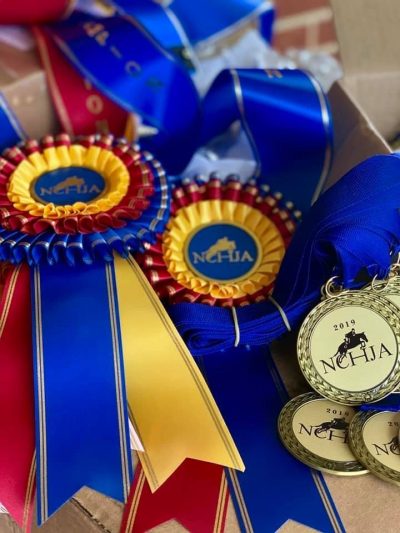 Thank You For Joining Us
For The 2019 NCHJA Annual Banquet We had over 250 Members Attend!!
Congratulations to The Year End Special Award Winners
Best Child Rider on a Pony C Show -Tess Kjellberg
Best Child Rider on a Horse C Shows- Emily Ann Wright Best Child Rider on a Pony A Shows - Savannah Welch Best Child Rider on a Horse A Shows - Hannah Smith Sportsmanship Award - Emily Grace Swinson Horse Show Parent - Gay Bray Horseman Of The Year - Pat Dodson Horsewoman Of The Year - Cathy Schlaeppi Hall Of Fame - Pat Dodson Horse Hall Of Fame - Notoriety owned by the Gaither Family, Walk The Line owned by Nancy Merritt
Congratulations to our NCHJA "C" and "A" Circuit Medal Winners
"C" Pony Medal - Tess Kjellberg, "C" Children's Medal - Remington Linker, "C"Adult Medal - Caroline Johnson
"A" Pony Medal - Kate Mills, "A" Children's Medal - Stella Thigpen, Bryan Jones Adult Medal - MacKenzie Ashe, EJ Haun Medal - Madelyn Van Tien NCHJA will award each Medal Winner a monetary grant. This grant may be used towards equestrian improvement, academic advancement or a combination of both. The winners must submit their request for the funds to be transferred in writing within six (6) months of their win. All Checks will be made to the equestrian program or academic institution. No check will be made to the winner or any member of the family.
The NCHJA is proud to offer two $1000 Norah Morris Scholarships
Congratulations to Olivia Skertich and Kaitlyn Grace Forrest, our 2019 Norah Morris Memorial Scholarship recipients. Both young ladies have maintained excellent academic records while being involved extensively in equestrian activities and in the community.
2020 Board of Directors
President - Cathy Schlaeppi, Vice President - Bob Savage 2nd Vice President - Cathy Dow, Treasurer - Cyndi Peterson Secretary - Ginny Rigsbee, Executive Secretary - Kim Hoft Vicki Autry, AnneMarie Bosley, Gay Bray, Jenn Clauss, Devney Hoft Darge, Tami Jones, Shirley Murphy, Sarah Nelson, Laura Norment, Sara Steady, Alexandra Vernon Sophie Bray - Junior Representative
NEW FOR 2020 - NCHJA "C" Shows
A Year End Award will be given for the Children's Pony Hunter Division.