NCHJA CHECKLIST
********NCHJA Year End Award Points End November 30th. Please check your points and contact NCHJA with questions. All points will be final on December 15th. *********Remember to renew your membership for 2020 starting December 1, 2019************Submit you Championship Picture to NCHJA for the COTH 2020 Annual Horse Show Issue by January 2nd, 2020. *********Please direct any questions to info@nchja.com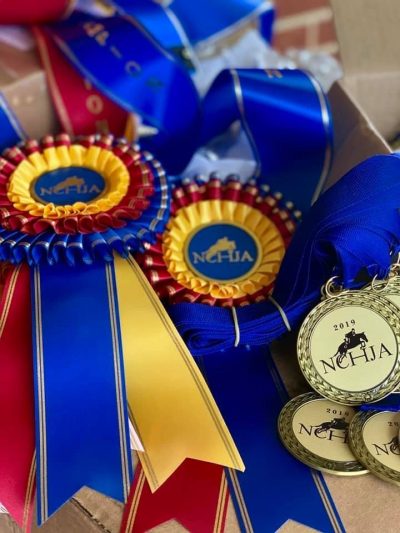 Join Us For
The 2019 NCHJA Annual Banquet January 11, 2020 At The Pinehurst Resort
9:00am-12noon - Judges Clinic with Tom Brennan
12noon-1:00pm - Steward's Clinic 12noon-2:00pm - Junior Luncheon with Tom Brennan 2:00pm-4:00pm - General Meeting 6:30pm-12:00am - Awards Banquet, Dinner & Dance
The Chronicle of the Horse will publish the
2020 Annual Horse Show Issue on March 23, 2020 This issue will include NCHJA's results for high-score champions and reserves, along with photos of champions in the hunter, jumper and equitation divisions. Photo's (for champions only) must be submitted to the NCHJA office no later than January 2, 2020.
Congratulations to our NCHJA
"C" Show Medal Winners! NCHJA Pony Medal - Tess Kjellberg NCHJA Children's Medal - Remington Linker NCHJA Adult Medal - Caroline Johnson NCHJA will award each Medal Winner a $500 Grant. This grant may be used towards equestrian improvement, academic advancement or a combination of both. The winners must submit their request for the funds to be transferred in writing within six (6) months of their win. All Checks will be made to the equestrian program or academic institution. No check will be made to the winner or any member of the family.
The NCHJA is proud to offer two $1000 Norah Morris Scholarships
Congratulations to Olivia Skertich and Kaitlyn Grace Forrest, our 2019 Norah Morris Memorial Scholarship recipients. Both young ladies have maintained excellent academic records while being involved extensively in equestrian activities and in the community.
2019 Board of Directors
President - Cathy Schlaeppi First Vice President - Bob Savage Second Vice President - Cathy Dow Secretary - Ginny Rigsbee Treasurer - Vicki Autry AnneMarie Bosley, Gay Bray, Jenn Clauss, Amy Hazard, Devney Hoft, Tami Jones, Shirley Murphy, Laura Norment, Cynthia Peterson, Sara Steady, Alexandra Tart, Laura Gaither Ulrich, Emily Grace Swinson - Junior Representative